Not too long ago, I was asked "just how many knives do you carry?"
I'm pretty sure the question came up after I pulled more than one knife out of my pockets when someone asked to borrow a knife. As I started emptying my pockets, it started to dawn on me that I might be a 'knife guy' or possibly a 'wingnut'. I'm almost positive that the person asking me the question believes me to be a wingnut. Oh well, what's a guy to do...
So how many knives do I carry on any given day? It depends. On what day it is, on what I'm doing, on where I am, etc.
Image from swissarmy.com
Generally, if I'm wearing pants - I'll have at least two knives on me and one of those is always a Victorinox Super Tinker.
For my EDC requirements, this SAK is just about perfect. It has everything I might need and nothing I don't. Sometimes I carry the Fieldmaster instead (it has the same tools with the addition of a saw), but it is just a little too wide for comfortable front pocket carry everyday (for me).
If I'm going to church or somewhere where I'd like to be a little more discreet, then it's trapper time. Either a Case Trapper in red bone or a Boker Urban Trapper. There's just something about a clip point blade that I find gorgeous. Here's a picture of these two beauties.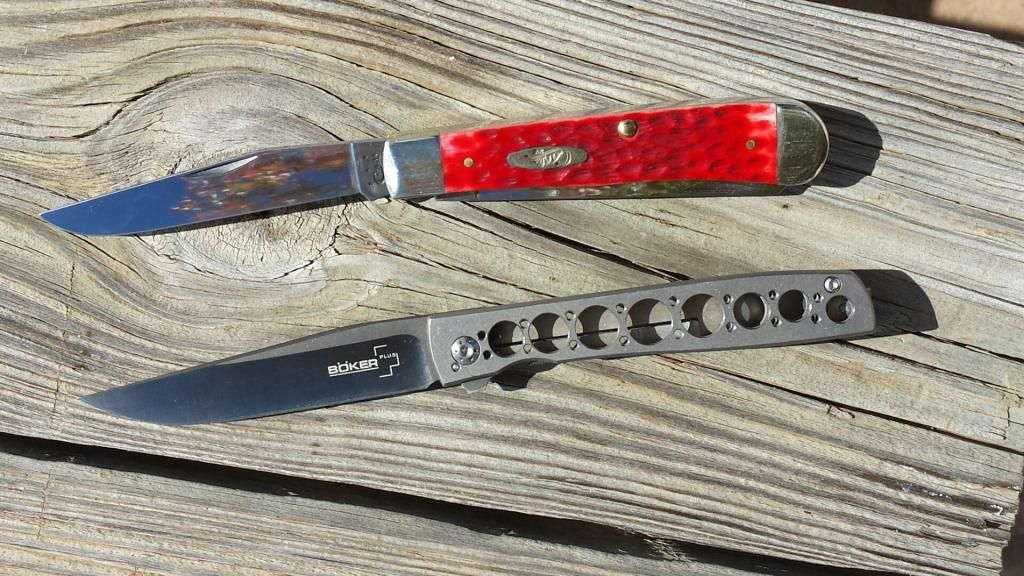 If it's a work day, then I usually have a GEC Bull Buster with red linen micarta handles riding in a crossdraw sheath. It's basically a full sized Sodbuster with 1095 steel. I don't have a picture of my knife, but it's developing a nice patina and rides in a leather sheath I bought off of ebay from a fellow Texan. I'll try and get a decent picture and add it here soon.
And just so no one thinks I'm all about traditional knives - I also usually have either a Kershaw Knockout or a Benchmade 943 riding in a back pocket as well. These two knives are not very similar (the Knockout is a sub-frame lock w/ assisted opening and a flipper, while the 943 is an Axis lock w/ thumb studs). But both fill the role of more of a quick deploying, emergency situation knife where I may not have the time (or ability) to use both hands to open one of my more traditional folders. Both of these knives have been modified with a bit of stippling to aid in purchase as they both have rather slick aluminum scales. (Again, I hope to get some pictures up soon.)
Sometimes I get a little wild and carry a fixed blade knife. It may be a Bark River Gunny, a Esee Izula II, or one of several other CRKT or Boker models. These will usually be work on the belt or in a pocket sheath. I have tried carrying neck knives in the past, but I guess my neck isn't strong enough - I've never found one I particularly enjoy carrying around all day.
So there it is. Maybe. A little.
How many knives do I carry? On most days three - sometimes more, sometimes less. There's also usually another folder on my person, but I don't want to give all my info away...
Does carrying three knives make me a wingnut? To some I suppose it does. To the practical knife aficionado, I bet not. Spend enough time on YouTube or internet forums and I'm sure you'll find those who wouldn't be caught with ONLY three knives. But I don't even find those seven-knife guys (I don't want to exclude the ladies, but most folks carrying around 5-7 knives at a time tend to be male) to be wingnuts. If I had more pockets, I might carry more too...
What do y'all think? Is three too many? Just right? Not enough?
Thanks for reading and God bless.
HH